FOUNDRY & STEEL INDUSTRY
Castings and Sand Transport with the JOEST Vibrating Through Type Feeder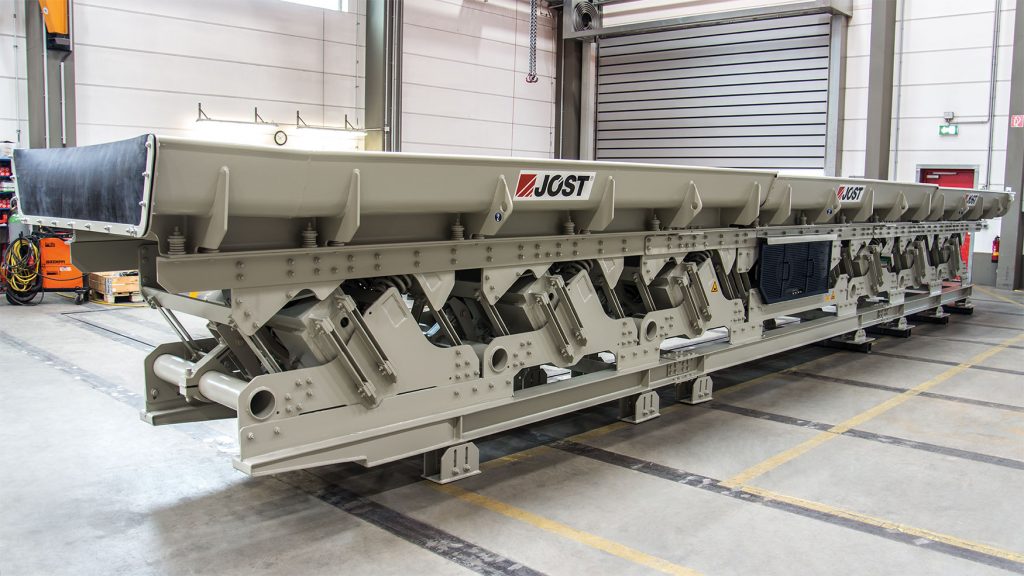 c
The vibrating through type feeder is positioned after a pre-shakeout feeder. The 1,400 mm wide and 12,600 mm long type feeder delivers the cast iron parts to baskets, which are attached to a suspension track, via a manipulator. The remain sand deduction runs parallel.
The vibrating through type feeder relies on the mass compensation resonance principle. The vibrations and dimensional forces are compensated by active vibration dampers. The result is that transmission of vibration to the foundational steel construction is minimised.

The heavy duty vibrating FSM feeder differs mechanically from the common trough type feeder. Some parts are manufactured from solid material when manipulators are used, in contrast to the common feeder. The extra durable trough, which is fixed on top, is stabilised by additional suspension arms and stiffening. These additional suspension arms ensure a clean and straight output of the 600 Grad cast iron parts, despite rough conditions caused by the manipulator.

The 13,8 t feeder's is efficiency is due to its 7.5 kw electric motor. The modularity of the parts allows for an easy assembly even in restricted spaces. The vibrating feeder is equipped with a vibration width regulator so different products or product sizes can be accommodated. The machine delivers up to 116 t of sand per h.

No matter what requirements our customers may have – JOEST offers the required experience, know-how and custom engineered solutions for your market success. Simply contact us!