CHEMICAL & PHARMA INDUSTRY
JOEST cooling system
with used water heating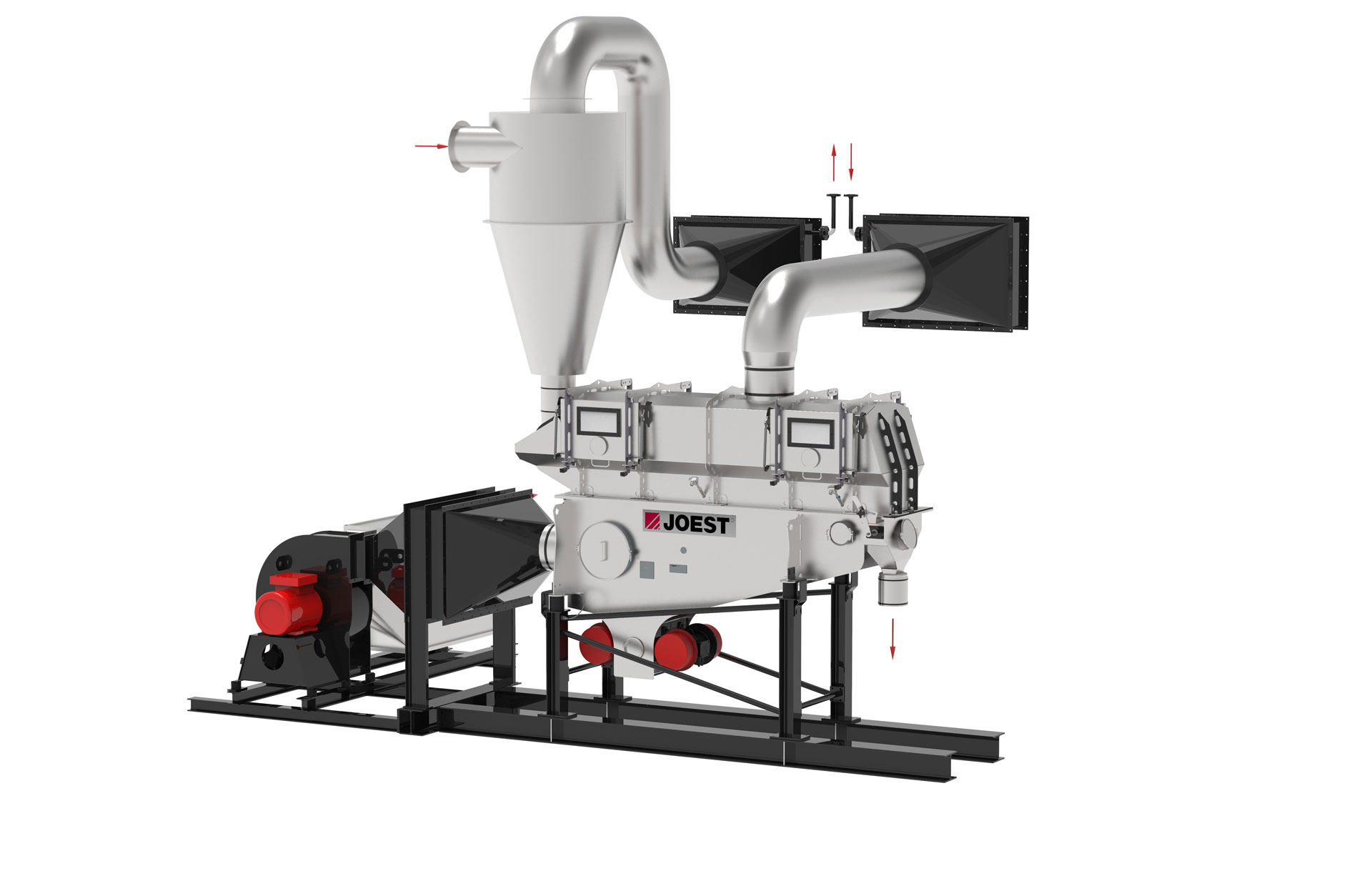 Energy-efficient fluidized bed for cooling plastic granulate.


For several years, JOEST has been working on the optimization of thermal treatment plants with regard to energy consumption.
The optimization of energy consumption is the main focus in thermal treatment. The JOEST Fluidized Bed Dryer is already equipped with an exhaust air heat exchanger to preheat the process air. In specific cases, the drying systems can be designed with exhaust air recirculation. In this case, the exhaust air is partially returned to the drying system after being cleaned by a filter or cyclone. This reduces the energy consumption by more than 40 %. Such measures were previously not available for the JOEST Fluidized Bed Cooler, as the warm exhaust air cannot be recycled in the cooling process itself.
For the customer VEKA Recycling, an energy-efficient concept for cooling plastic granulate has now been developed by additionally focusing on the upstream and downstream systems. VEKA also focuses on environmental considerations when it comes to purchasing new machinery. VEKA's environmental awareness is served through the new process water heating system.
Basically, the JOEST Fluidized Bed Cooler transfers thermal energy through convection, i.e. direct heat transfer, so that the heat transfer medium comes into direct contact with the product. Conveying within the cooler is done by micro-throwing movements, which are well-known in conveyors using vibration technology. The vibrations are set individually for the application and machine type by adjusting the amplitude, frequency and angle of attack.
The hot plastic granulate is transported to the fluidized bed by pneumatic conveying and releases its heat into the surrounding air. This is passed through an air/water heat exchanger and thus heats the process water. In the further course, the plastic granulate transfers the heat to the cooled air, which is then passed through the second heat exchanger, further heating the used water. This can then be used at approx. 55 to 60°C in other process steps that require hot water or used to heat factories and offices. The investment costs for a heat exchange system are often covered after just one year by corresponding energy savings elsewhere.
After the engineering is complete, the machines will be manufactured at JOEST and delivered to the customer in mid-2023.