Linear and elliptical motion combined in one screen
JOEST has developed a double-shaft screen for challenging screening applications. The screen allows a changeover from a linear motion to an elliptical motion in order to optimize the screening process fort he actual consistency of the product.
In the actual project in question, around 270 t/h of wet gravel and sand with a grain size of 0–120 mm were screened. This material is highly abrasive, sharp-edged and thus prone to clogging. Due to the twin-deck design, it is possible to produce gravel sizes of 0–4 mm, 4–22 mm and >22 mm.
The special feature of this screen is that it can be operated both as a linear motion as well as an elliptical motion screen. This is made possible by a JOEST electronic control system in combination with the proven, overhead JOEST double-shaft drive.
In addition, the new system with electronic control can variably adjust the angle of attack and the formation of the ellipse. The screen can therefore be precisely adjusted to suit the customer's screening requirements.
Conveyed material with a tendency to clogging is screened primarily with an elliptical vibrator. To ensure clear screen cuts, it makes sense to switch to a linear vibrator.
The speed and vibration angle can be changed without stopping the machine. This results in different transport speeds and accelerations on each screen deck, which enables optimisations during the ongoing screening process.
When selecting the screening system to be used, JOEST accommodates the customer's requirements and wishes, thus ensuring that all common screen covering systems can be used. Customers can also choose between oil or grease-lubricated drive units.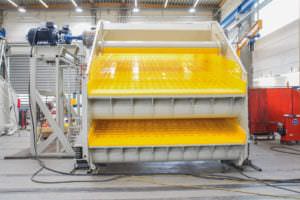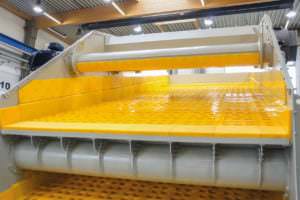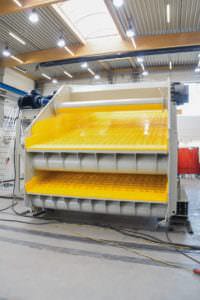 ---
---