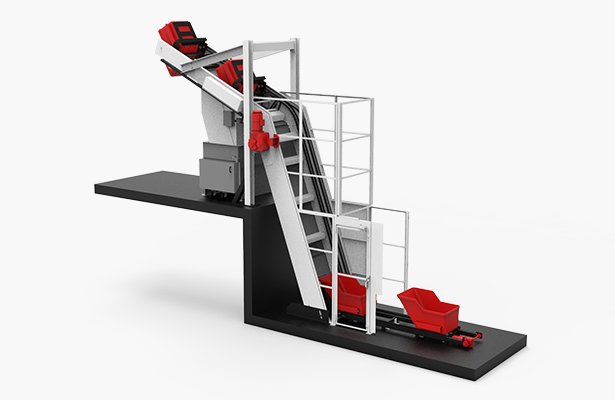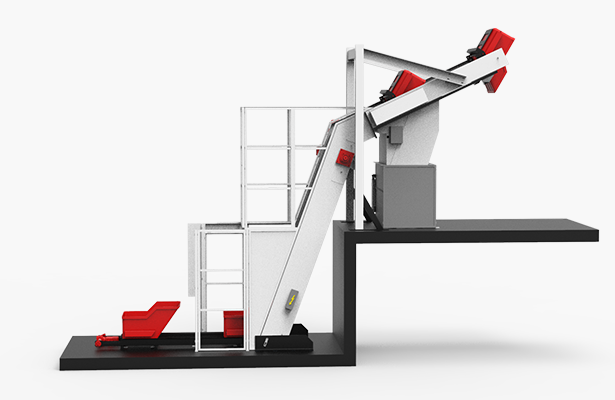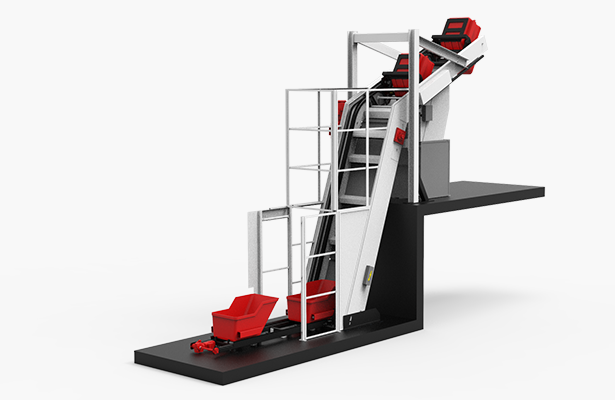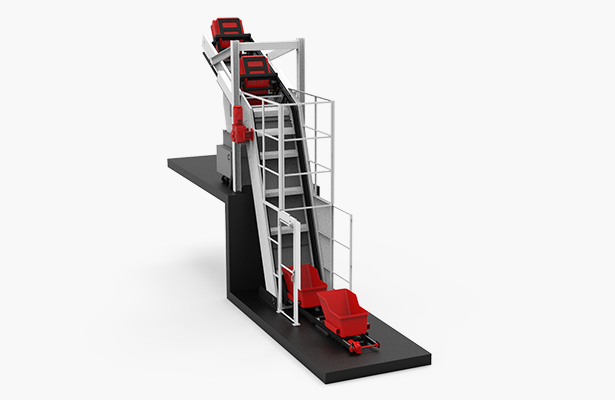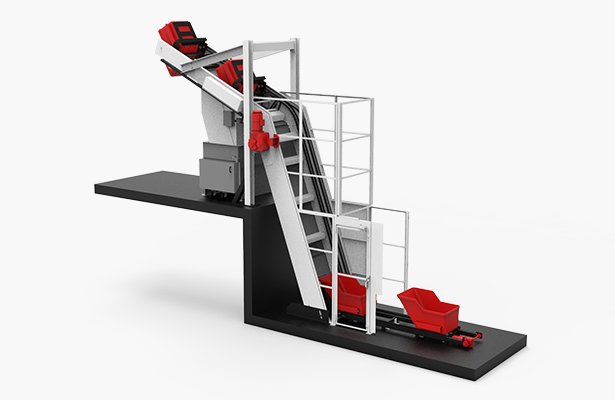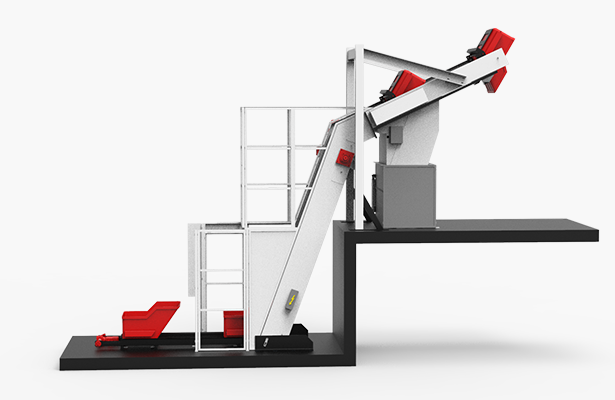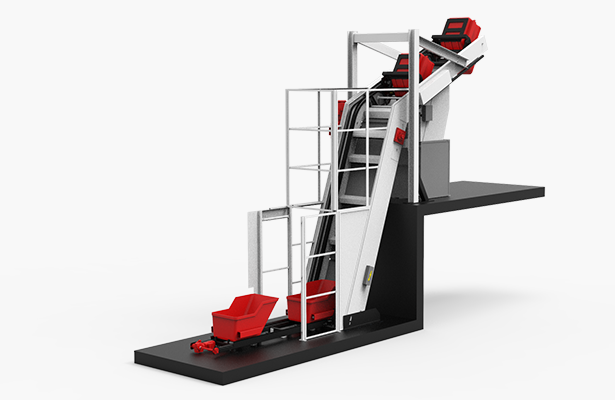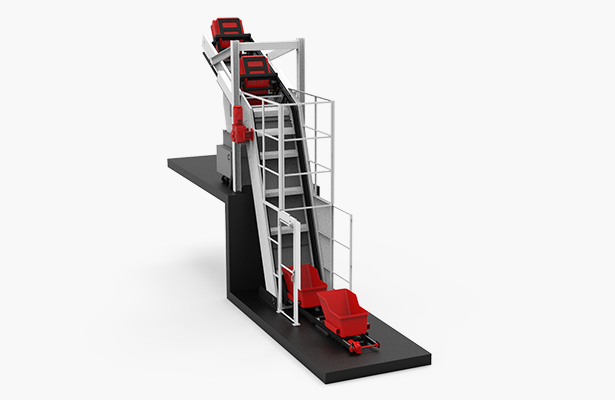 Lifting/Tipping
MDW Series
Lifting and tipping devices of the MDW series extend their application range to include incline conveying and subsequent tipping.
Instead of pure horizontal conveying, this series enables lifting and displacement at the same time via an inclined conveyor. At the end point, either the tipping movement can be initiated up to 180° or the batch remains in position and is docked, emptied out, etc. Like the entire MD series, the MDW models are designed as two-column units and offer load capacities of up to 1,000 kg. In addition to the inclined conveyor path, the inlet and outlet can be designed horizontally to create a Z-batch conveyor.
During the transition from horizontal travel to inclined travel, the chains are deflected by the desired angle and the guide rollers are threaded accordingly. Conveying lengths of up to 12 m are possible with these devices. These Z-conveyors are particularly suitable if the feeding location is deeper and further away from the discharge point or if, for example, containers must be filled evenly by feeding them at several points.
Like the entire MD family, the MDW devices are based on a two-column design with two load bearing chains, which pull the load handling device into guide rails. Special cam tracks allow the load handling device to be tipped and thus emptied at the end point.
The MDW-Series is suitable for batch transportation to several dispensing points. This way, the batch can be lifted via the machine or system and then move vertically to several points where the batch can be discharged. Tipping curves that can swing in on demand can be used to tip out at several points. Alternatively, containers with bottom emptying mechanisms can be docked at the destination points via a hub.
It is also possible to make the unit mobile by using a chassis. This means that more than just one downstream system or container can be loaded.
The choice of material is determined based on the area of application. Thus, in addition to the version in standard steel, versions in stainless steel or mixed designs are also possible. Requirements in potentially explosive environments (ATEX) or outdoor installations can also be implemented.
Z-conveyors and tipping
Batch transport
Loading at several points of delivery
Food version possible
The MDW series
Read more about the MDW series, different designs and options here.
If you have any questions or are interested, please contact us directly!
Adapted to customer containers
High degree of freedom with regard to the X-Y-axis
Emptying at several positions possible
INDIVIDUAL
Options and Accessories
All lifting and tipping machines have a variety of different options and accessories to choose from. For example, you can be equipped with automatic chain lubrication, special coating in almost any RAL tone, container weighing, locking bolt securing to fix the load carrier, maintenance platforms on the machine head, PLC control, level monitoring, etc.
CONTACT FORM
Write to us!
Contact us quickly and easily via the following form. We will get back to you as soon as possible! Alternatively, you can reach our head office at +49 2590 98-0.