Austrian customer receives JOEST GRIZZLY screen
In March 2018, JOEST has delivered a heavy duty GRIZZLY screen for limestone to an Austrian customer.
The screen has a size of 1800 mm x 4000 mm and a capacity of up to 800 t/hr. The feeding material varies between 0-800 mm and has an edge length of up to 1200 mm. To absorb the enormous impact energy of the extreme grain size, JOEST used a 120 mm rubber in the feed tray as protection. For this machine, the proven exciter was used, which is perfect for heavy duty applications.
Limestone tends to stick and blind the screendeck. Even with these difficult product properties JOEST Grizzly screens shows its real performance. In principle, GRIZZLY screens are used as a primary separator for the coarse separation of material in front of jaw crushers.
This project proves again that JOEST is able to offer the right solution for every customer and application.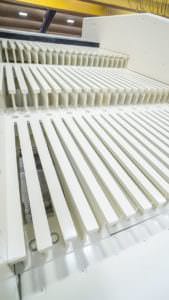 ---
---