Extension of the automatic charging system for furnace 6
For the optimization of the foundry and to improve the production process, the Bosch Rexroth AG in "Lohr am Main" is adding a third furnace to its automatic charging system which currently features two furnaces. For this project, a new furnace platform is being built in the neighboring building. The task for JOEST was to find a solution, so that the existing feed equipment for the furnace Charging Vehicles could be reused. The vehicles are fed with metal scraps and additive materials needed for the melting process, both of which are bound to their original location.  
JOEST designed a concept with a four-way displaceable Charging Vehicle and a mobile belt conveyor. The Charging Vehicle uses its hydraulically lowered wheels to move forwards and backwards to the furnace and laterally to the two filling stations (for metal scraps and additives). The existing workshop crane is equipped with a circular magnet (10 t lifting capacity) and fills the scrap hopper on the Charging Vehicle. Then, the vehicle moves to the additives filling position. They are fed into the Charging Vehicle using the belt conveyor. The additives are selected and mixed at the ground level and then placed in a container which is lifted upwards by an electric pully and moved laterally along a steel beam on a monorail. The additives are discharged into the feed funnel of the belt conveyor, which conveys the material into the additives-hopper on the Charging Vehicle. The Charging Vehicle can now move to the furnace and discharge the material for the melting process.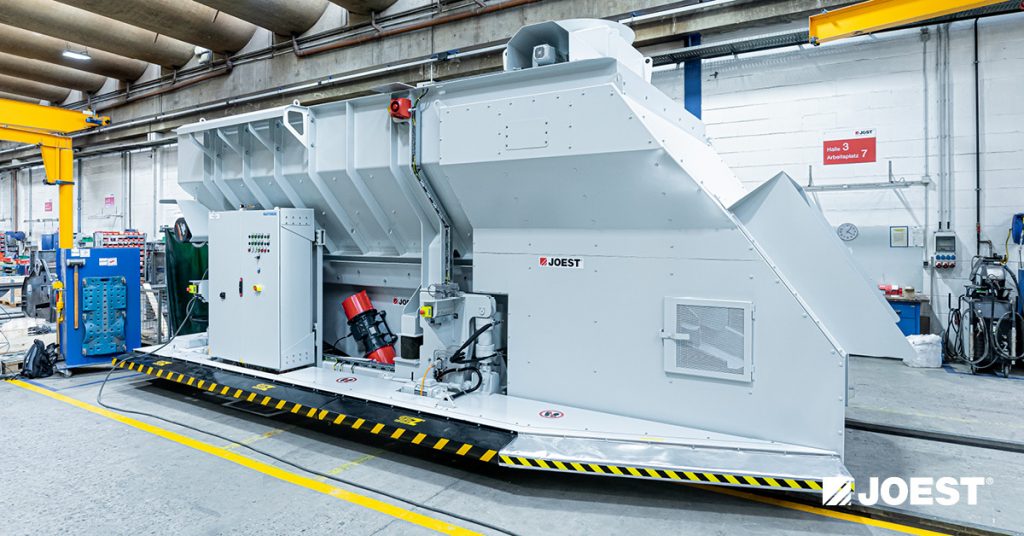 The Charging Vehicle has a hopper volume of 9.75 m³ for metal scrap and an additive container volume of around 0.5 m³. Its heavy-duty design makes it robust towards high wear, large drop heights, high temperatures and a dusty environment that are typical for a foundry environment. The belt conveyor features a total length of 8 Meters and a conveying capacity of 340 l per minute. Its feed funnel fits 400 Liters of material.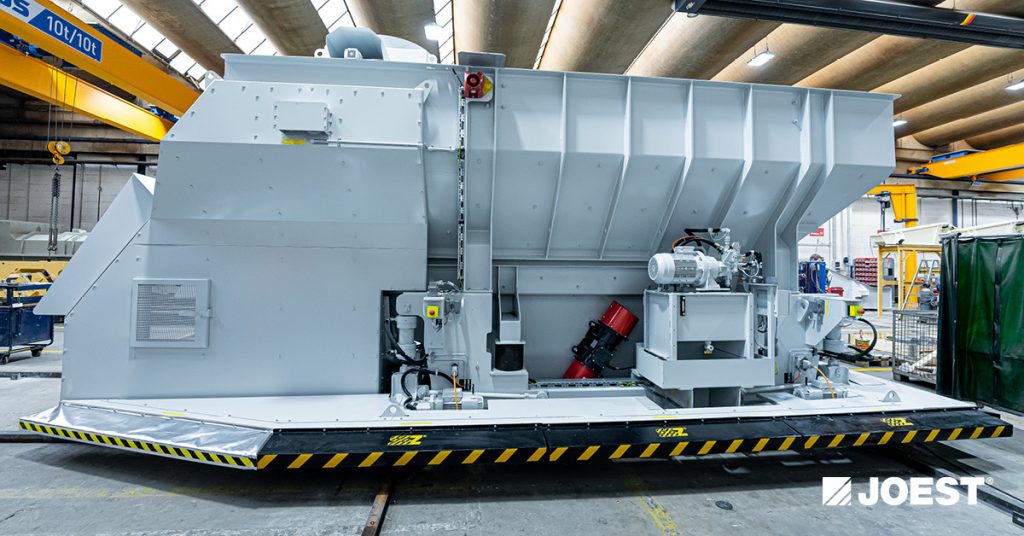 Bosch Rexroth AG has been successfully working with JOEST for many years now. They have several foundry machines such as casting coolers, shakeouts, sorting conveyors, etc. in operation. The Charging Vehicles at the two existing furnaces were also supplied by JOEST, installed in 2003. With runtimes of almost 20 years, the wear resistant design and usage of high-quality components have proven themselves well. Bosch Rexroth appreciates the operational safety and high availability of the machines. Designing the new Charging Vehicle brought up new synergies, as hydraulic components (aggregate, valves, cylinders) by Bosch Rexroth were used in the design. Technical demands were exchanged in a close collaboration between the two companies and components could be provided quickly and at a low price.

Installation by the #JOESTeam happens in multiple steps and will be completed by October this year. Commissioning is scheduled for the end of November.
---
---